Dive Into Ansible
The definitive guide for learning Ansible
20,000+ Students in 100+ Countries
⭐4.5 Avg Rating
Ansible 5 ✨Latest✨
Browser Based Ansible Lab ✨Included✨
Preview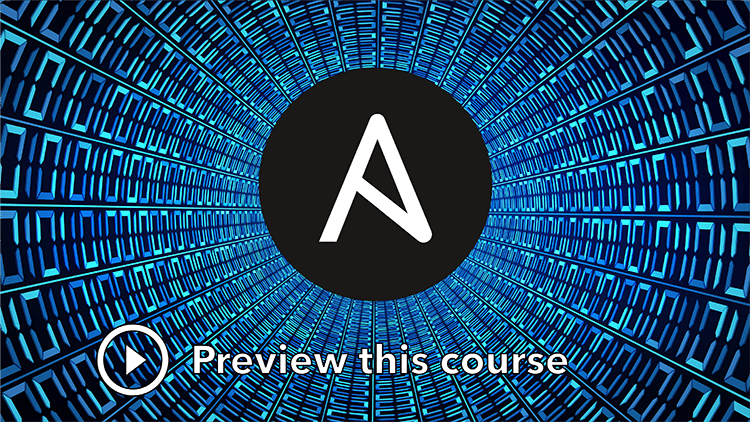 ⭐⭐⭐⭐⭐ - This course is very professional standard, When I started I had very vague understanding on Ansible, but James explained everything neat and clean. Lab environment is very useful for practicing. Thanks for the wonderful course.
Thamaraiselvam Selvam
⭐⭐⭐⭐⭐ - This is great course! All is very clear!
Dmitry Malkov
⭐⭐⭐⭐⭐ - James Spurin made the best Ansible training anywhere with "Mastering Ansible" and this new course appears to be a most worthy successor for 2021. The lab setup is ideal and very impressive, better than anything I've ever seen in any other course.
Michael Murphy
⭐⭐⭐⭐⭐ - Well structured course, simplified lab setup. James is very responsive to questions.
Mohammed Hasaballa
⭐⭐⭐⭐⭐ - Its clearly visioned , easy to follow the instructor and setup my lab environment.
Suresh Babu Yendluri
⭐⭐⭐⭐⭐ - Great learning and easy to understand...
Syed Faraz Ali Shah
⭐⭐⭐⭐⭐ - Excellent explanation
Andrew Egbelu
⭐⭐⭐⭐⭐ - Comprehensive tutorial
Marcus Allen
⭐⭐⭐⭐⭐ - Very slick setup using docker containers. The detailed explanations along with visual diagrams really helps cement understanding of what is going on.
Jules Free
⭐⭐⭐⭐⭐ - The course helped me get quickly up to speed with base concepts of Ansible, using which I was able to create an entire lifecycle for the deployment of our Platform with separate jinja configuration templates for different environments.
Yayati Sule
⭐⭐⭐⭐⭐ - Great audio and video quality. Additionally, the content is thorough.
Solomon Akinyemi
⭐⭐⭐⭐⭐ - One of the best Udemy courses I have enrolled. Presenter is engaged and answers all questions promptly.
Andres Fernandez
⭐⭐⭐⭐⭐ - A very comprehensive course, well structured, good examples, good explained. I learned a lot by coming from zero and having now an idea of how to continue. Thanks to James!
Grewe
⭐⭐⭐⭐⭐ - I come from a non-developer background but I found the course to be very straight forward and easy to follow. I really appreciated the lab environment and the time spent to make it seemless and easy to use. If I did find an issue James Spurin quickly jumped into help fix or find a workaround for the issue. I will be recommending this course for others that need to learn a lot of about Ansible.
Ryan Longfellow
⭐⭐⭐⭐⭐ - Very detailed course. It covers everything that you can do with Ansible.
Eduardo
⭐⭐⭐⭐⭐ - This course is complete, concise, and it will take you from zero to hero while explaining all of the concepts clearly and thoroughly. The Lab feature will get you started in no time, providing an amazing consistent and error-free environment to follow the course. I went from zero to managing my infrastructure reliably after this course. Highly recommended!!!
Andrea Callea
⭐⭐⭐⭐⭐ - Very nicely explained.
Rohan Duddu
⭐⭐⭐⭐⭐ - Was very good, I came from nothing and now feel have a greater understanding of it, might run back throught some stuff but this has helped to improve my home automation projects
Wally West
⭐⭐⭐⭐⭐ - I wasn't expecting nice - structured way of prepared steps throughout the lectures, and with nice additional hands on labs
Krzysztof
⭐⭐⭐⭐⭐ - Good learning material
Dharmpal Yadav
⭐⭐⭐⭐⭐ - Lots of real world examples, and lab exercises were awesome. 5 stars for this courses man, no doubt....
Santhosh Nagaraj
⭐⭐⭐⭐⭐ - I'm new to this and already I'm following without cracking my head well presented
Sibusiso Winston Xaba
⭐⭐⭐⭐⭐ - The course has been presented very clear and was very well structured by sections that added the information at the right amount and at the right speed. The author has made himself very clear and he is indeed highly skilled professional. Thanks
Robertino Popa
⭐⭐⭐⭐⭐ - So far the course has gone into detail showing the different ways that ansible can be configured and used,which helps when picking up existing ansible environments and understanding the way it may have been configured.
Kevin Kirby
⭐⭐⭐⭐⭐ - Very clear and easy tutor. i learn not only ansible but also linux. Like it much
Iskandar Lie
⭐⭐⭐⭐⭐ - James is engaging and very easy to follow. Great demonstrations with clear and concise explanations.
Colin Sumby
⭐⭐⭐⭐⭐ - This course is very good. you will definitely learn quickly. there are no knowledge gaps so your foundation will be solid. I highly recommend it to all my friends. Thank you.
Josef Ababat
⭐⭐⭐⭐⭐ - Amazing
Nihar Ranjan Panda
⭐⭐⭐⭐⭐ - Impressed, informative, easy to follow. The course covers a lot of topics.
Oluwatobi Adebisi
⭐⭐⭐⭐⭐ - Very well covered and Thank You very much James!! This is wonderfully explained and I feel to go on and on..
Ashish Bisaria
⭐⭐⭐⭐⭐ - Very thorough with other useful content along the way
Luciano Bone
⭐⭐⭐⭐⭐ - Informative
Akshay
⭐⭐⭐⭐⭐ - Really liked the methodical approach in explaining each sections on the playbooks and YAML.
Aravind
⭐⭐⭐⭐⭐ - Well structured. The development of concepts is intelligent and logical making it easy to quickly grasp complex ideas.
Will Dailey
⭐⭐⭐⭐⭐ - Good coverage of Ansible and its use with Cloud and Containers.
Timothy Pearce
⭐⭐⭐⭐⭐ - Good clarification on Ansible so far!!
Prakash Ramakrishnan
⭐⭐⭐⭐⭐ - This is the complete course for ansible
Sagar Gogate
⭐⭐⭐⭐⭐ - So far, it's an excellent match. The instructor is awesome and the course materials match up with my expectations. Good Job on this one.
Michael Wood
⭐⭐⭐⭐⭐ - Super!
Raghavendra Guttur
⭐⭐⭐⭐⭐ - Well exposed
Sergio Fonseca
⭐⭐⭐⭐⭐ - Yes It was good match for me
Arjun
⭐⭐⭐⭐⭐ - Its nice , Well explained about ansible, Thanks :)
Vivek Kumar Yadav
⭐⭐⭐⭐⭐ - training materials is available from GitHub thus student can repeat the courses and exercise easily. It will be nice if there are more advance details on role testing.
Min Qiu
⭐⭐⭐⭐⭐ - The course is fantastic! It is well designed with plenty of detailed practices.
Arthur Niu
⭐⭐⭐⭐⭐ - Good content in the course.. Thank you
Anonymized User
⭐⭐⭐⭐⭐ - Course was fantastic. Showed so much more than I expected. Easy to follow
Paul Scott
⭐⭐⭐⭐⭐ - Brilliant Explanation
Yellesh kongala
⭐⭐⭐⭐⭐ - Excellent
Ashok R
⭐⭐⭐⭐⭐ - Excellent course.
Ira Lustman
⭐⭐⭐⭐⭐ - Excellent Explanation on each topic. This is my all-time best online class. He is super.
Sirisha
⭐⭐⭐⭐⭐ - Good
SENTHILNATHAN SELVAKRISHNAN
⭐⭐⭐⭐⭐ - This course is very well designed and all the topics of Anisble are covered in detail..
Pratap Reddy R
⭐⭐⭐⭐⭐ - Very good knowledge about the topic.
Michal Kowalewski
⭐⭐⭐⭐⭐ - Very in depth deep diving of using ansible and places a very useful tool in my box.
Robert McGinnis
⭐⭐⭐⭐⭐ - yes its a match for my profession
Bhargav Kodukula
⭐⭐⭐⭐⭐ - Excelente
Edduin Felipe Arias Gomez
⭐⭐⭐⭐⭐ - Great course
Omar Baltazar Alonso Hernandez
⭐⭐⭐⭐⭐ - Excellent Course. The trainer has organized the topics is very good. Very clear in teaching.
Eranga Lawrance De Silva
⭐⭐⭐⭐⭐ - This course is very detailed and suited what I need very well.
Donald Sparish
⭐⭐⭐⭐⭐ - Well explained...Recommended
Prince Bajaj
⭐⭐⭐⭐⭐ - Amazing course!!!
Oscar Carrillo Escobar
⭐⭐⭐⭐⭐ - Fast & furious
Jim Shaw
⭐⭐⭐⭐⭐ - Very nice course, useful content which cover a lot of topics.
Jakub
⭐⭐⭐⭐⭐ - Good course for the beginners :)
RamKumar Nagarajan
⭐⭐⭐⭐⭐ - Great reference point, even a year later.
Pete
⭐⭐⭐⭐⭐ - Enjoyed the course, learned a lot on top of what I already knew.
Henk Wobbes
⭐⭐⭐⭐⭐ - Yes...It is very detailed and good session....Thanks
Nitish Gupta
⭐⭐⭐⭐⭐ - Great to know more about Ansible
M Rauf Qureshi
⭐⭐⭐⭐⭐ - This course is an excellent one.
Sandor Vas
⭐⭐⭐⭐⭐ - I've tried a number of courses on ansible and this is the very best. Its advanced topics section is invaluable and worth the cost by itself.
Arthur Gilbert
⭐⭐⭐⭐⭐ - So far, the instructor provides succinct explanations for what is happening and it is quite easy to follow what he is saying
Aneh Binda
⭐⭐⭐⭐⭐ - Excellent tutoring thank you
Gaetano Giacalone
⭐⭐⭐⭐⭐ - Excellent
Mohamed Yousuf
⭐⭐⭐⭐⭐ - Clear and complete explanation. Very professional approach with high quality of image and audio. Very well structured and. Do recommend.
Artur Kulinski
⭐⭐⭐⭐⭐ - I am very satisfied with the clear voice and video quality. I am a relative beginner to server tech, and the guide so far is perfectly geared to my entry level knowledge. Full marks to you and your team! Job well done!
Mason Hill
⭐⭐⭐⭐⭐ - Pls provide some lab experience .. Apart from this is nice.
Venkataraman Muthukrishnan
⭐⭐⭐⭐⭐ - Absolutely recommend this course. The best course I have undertaken by a long stretch. Hence the compelling need to write i review that i dont usually. I will be contacting the publisher and asking for more courses similar to this subject. Personally wouldnt look for another publisher or instructor. Well Done!
Martin Lewis
⭐⭐⭐⭐⭐ - thoroughly from a coder's point of view. will give you good foundation.
HANK NGUYEN
⭐⭐⭐⭐⭐ - Its awesome.
Pawan Kumar Gupta
⭐⭐⭐⭐⭐ - The course probably started a little bit slow for me but there were some good nuggets thrown in and it soon gets more advanced. I like the gradual pace. Suitable for absolute beginners and those with moderate experience with Ansible.
Stuart Gall
⭐⭐⭐⭐⭐ - Good experience because there a lot examples and template, I recommend it course because is easy to understand
Jorge Mansilla
⭐⭐⭐⭐⭐ - This course is a must for people who would want to learn advanced features of Ansible.
Manjunath Reddy
⭐⭐⭐⭐⭐ - Fabulous and worth full.
Prateek rathore
⭐⭐⭐⭐⭐ - If you are a beginner, this course is really helpful to learn from scratch.
Anonymized User
⭐⭐⭐⭐⭐ - great content
Viman Sharma
⭐⭐⭐⭐⭐ - zdecydowanie
Bankroot Kłos
⭐⭐⭐⭐⭐ - Well structured videos and everything is so far very easy to understand and follow.
Pablo Culebras
⭐⭐⭐⭐⭐ - Very detailed and well structured. Brilliant
Carlton Patterson
⭐⭐⭐⭐⭐ - The installation methods are very clear and easy. Good work..!
Praveen Kumar
⭐⭐⭐⭐⭐ - Clear and organized which makes you easy to understand
Olva Tito
⭐⭐⭐⭐⭐ - Very nice
Alok Gupta
⭐⭐⭐⭐⭐ - good course
Balaji Sivabalan
⭐⭐⭐⭐⭐ - The course has very comprehensive coverage of the Ansible tool, equipped with large amount of example cases. The instructor is very experienced and knowledgeable in the area. The course material is well structured; the lab environment is well designed; the inclusion of AWS and Docker modules is the best for application to real world. Highly recommend it and will be very interested in the instructor'Äôs future courses.
Bill Z
⭐⭐⭐⭐⭐ - Very detailed walk-through that covers things in a manner that logically builds. Takes the time to demonstrate even the "good to know even though you probably won't use" bits. This is stuff I would have skimmed if I'd been reading a book on it that I understand better now because of this course. Now that I've completed it, it covered everything I wanted to learn. I'd be interested to see more exploration of the new ansible-container library, but the initial coverage of Docker is great. It would also be interesting on the AWS example to illustrate porting the exact setup to another cloud provider like GCP.
Barry Jones
⭐⭐⭐⭐⭐ - Class is VERY well designed and acted. I am impressed at the quality.
Gb_learning
⭐⭐⭐⭐⭐ - Well structured, and thorough.
Avadhani Jonnavithula
⭐⭐⭐⭐⭐ - This was the best Ansible course I have encountered so far, and I looked at about three other courses. I was pleasantly by the inclusion of creating Docker containers using Ansible.
Kevin Kang
Check your inbox to confirm your subscription